Made in Italy
Ultrasound washing machines and weapons cleaning stations
The process of cavitation generated by ultrasounds is a very effective technique to clean any mechanical part making use of water and specific cleansing material. An ultrasound generating transducer produces ultrasonic waves and vacuum bubbles (cavitation). These bubbles collapse with enormous energy. High temperature and pressures on the order of 20.000 lbs per square inch are achieved. As a matter of fact it is a real mechanical actions which can reach any remote part of your weapons which could be hardly be reached with traditional cleaning techniques (i.e. brushe) However bubbles are so small that they do no more than clean and remove surface dirt and contaminants.
All our Ultrasound washing machines are
made in Italy
.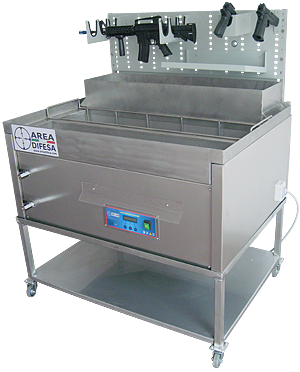 ADL47/12
Weapons cleaning station ADL47/12
ADL47-12
represents state of the art in the field of cleaning machines for weapons. It is suitable for cleaning most weapons commonly found world-wide. Thorough cleansing is achieved by excitation of multiple piezoelectric transducers which operate at a frequency which prevents damage to the items being cleaned without creating discomfort to the operator. The machine is a complete maintenance station composed by the following sections:
Ultrasound washing area with a tank of 47 litres capacity to clean either 4 standard rifles or a quantity of pistols. Produced in stainless steel (AISI 316L) with a thickness of 2.5 mm.
Weapons drying area making use of a standard air compressor (optional).
Lubricating area to complete weapon's maintenance process.
Back panel which can be equipped with specific components to support up to 3 common rifles, pistols and other small parts. The panel is a part of a complete range of racks to store weapons hence allowing the customers to select the best options according to their needs.
Both drying and lubricating area are equipped with valves to independently collect water or oil resulting from the cleansing process. The basket used for cleaning operation can be relocated to other sections without removing weapons.
The chassis and main structure are fabricated from stainless steel with a thickness of 2.5 mm with external panels of 1.0 thickness. The ultrasound generator, cooling fans and electronic boards are located inside the chassis.
Control panel
LCD Display with backlight.
Washing cycle digital timer (1-60 min).
Temperature digital setting (0-75 °C).
Pulse feature for a quick degassing.
Temperature and operating time display and storage.
Programmable switch-off function (from 1 to 8 hours).
Other features
Stainless steel basket to contain rifles.
Optional
Stainless steel cart with wheels and a shelf.
Compressor.
Stainless steel basket for small parts.
ADL47-12 by ADwash - Technical data
Description
Data
Internal dimension (ultrasound tank)
950 x 250 x 200(H) mm
External dimension
1060 x 850 x 490(H) mm
External dimension (including cart)
1080 x 850 x 900(H) mm
Main basket dimension
940 x 220 x 190(H) mm
Tank capacity
47 litres
Power supply
220 Vac - 50/60 Hz
Ultrasounds power
600/1200 W - 15/30 W per litre
Number of blocks
12 pcs (double ceramic)
Ultrasound operating frequency
25 kHz; +/- 10%
Resistor power
1500 W
Noise figure
72-82 dB ("A" scale) at a distance of 1 meter
Control panel
digital
Product code
ADL47-12
NSN (Nato Stock Number)
available upon request